The First Batch Of Cobalt Hydroxide Products Were Successfully Produced By The Pombi Copper Cobalt Project Of Wanbao Mineral Lamika Company
03-12-2021
On March 12, the cobalt system of lamika Co., Ltd. (hereinafter referred to as "lamika") of the Democratic Republic of the Congo successfully produced the first batch of qualified cobalt hydroxide products, which is another key milestone after the copper system was successfully put into operation on September 13, 2020, marking the successful full operation of the copper cobalt production system of pombi project.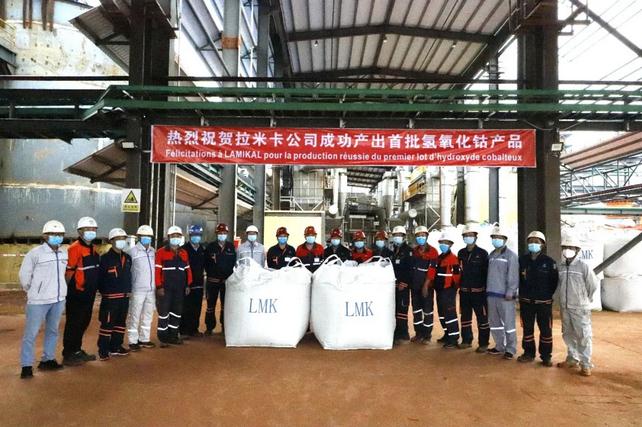 Under the unfavorable conditions novel coronavirus pneumonia continues to affect, the company has been practicing "loyalty, responsibility, pragmatism and efficiency" spirit of enterprise culture, and has been promoting the project construction and production operation under the premise of Comprehensively Strengthening the epidemic prevention and control. The project team has not been relying on or self pressurized, and has continued to overcome the shortage of construction personnel and the service providers can not be present. Many challenges, such as frequent local power cuts and power rationing, delayed mobilization of production personnel, have realized the steady increase of the output of copper production system and the smooth operation of cobalt production system.
The full commissioning of the copper cobalt production system of pombi project is the common achievement of sincere cooperation, tenacious struggle and overcoming difficulties of all participating units and participants. It is also a vivid embodiment of "China's speed and Wanbao mineral efficiency" in the African continent and a comprehensive display of the good image of Chinese enterprises.

Lamika will continue to firmly establish the "sense of responsibility, enterprising and opportunity", practice the concept of high-quality development, focus on the improvement of operation capacity, implement measures to improve quality and efficiency, and continuously improve product quality and cost competitiveness, so as to lay a solid foundation for the good start of Wanbao mineral's 14th five year plan.